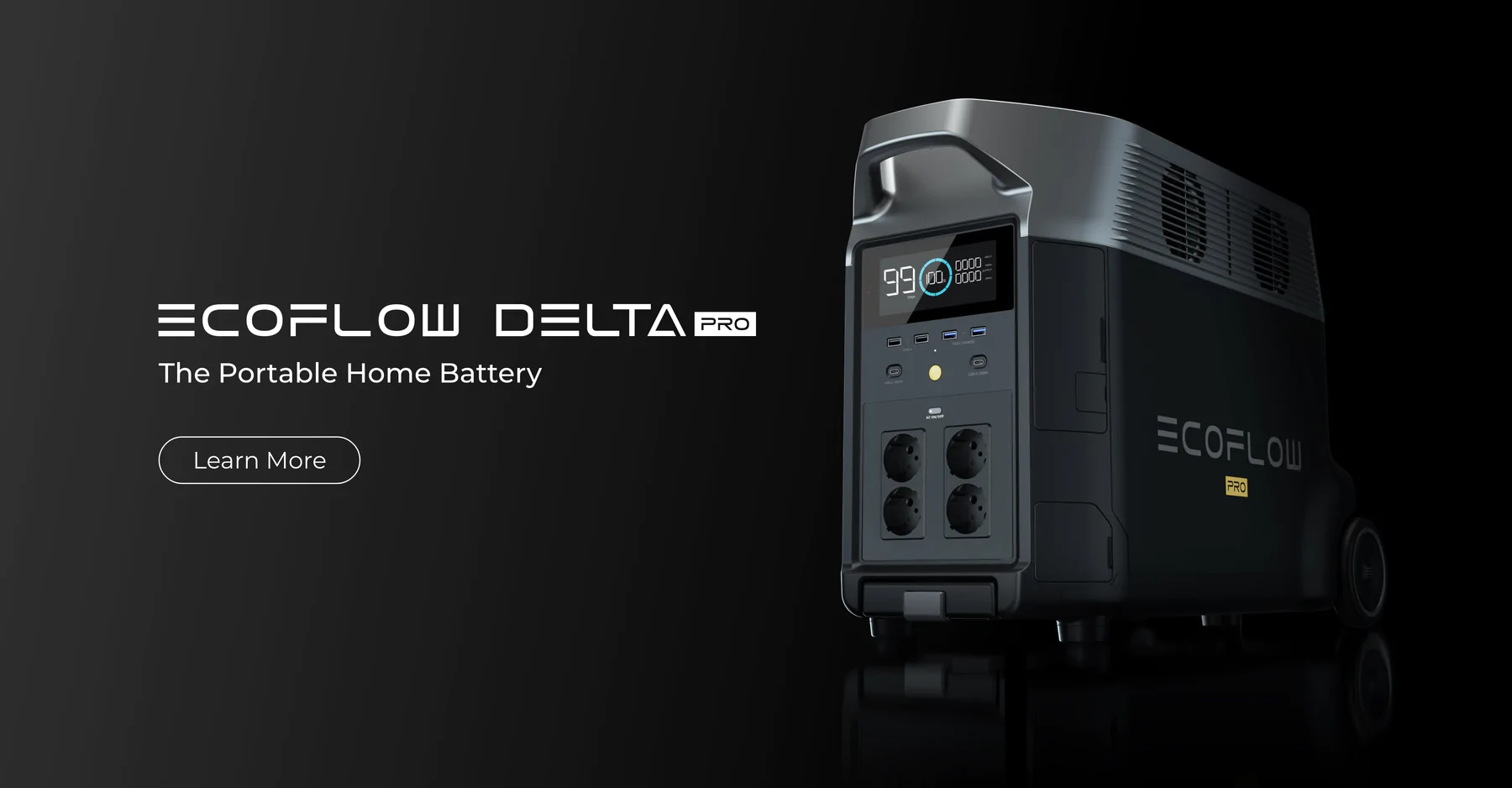 Learn Everything You Need to Know About the Leading Portable Power Unit On The Market with Our Ecoflow Delta Pro Review
The Ecoflow Delta Pro is a premium-grade mobile power station that delivers an effortless and continuous power backup for various electronic gadgets.
This model enhances the Delta 1300 and boasts several upgrades, such as a higher-capacity battery, quicker charging rates, and a more sophisticated management system.
With an impressive battery capacity of 3.6 kWh, this device can sustain the energy needs of multiple devices over a prolonged period, making it perfect for outdoor activities, camping trips, and emergencies.
Key Features
Sleek Design 

Huge Capacity Battery

Multiple Charging Speeds

Fast Solar Charging

Display

Mobile App

Safety & Security
Analyzing the key features
– Sleek Design
The design of a product plays a crucial role in enhancing its functionality and appeal to consumers. The Ecoflow Delta Pro boasts a modern, sleek, highly portable design. The gadget is meticulously designed with a sturdy aluminum alloy casing that protects it from potential damage making it a reliable companion for your outdoor adventures. This sleek design makes carrying the power station effortless and adds a touch of elegance to its appearance.
– Huge Capacity Battery
One of the most significant features of this power station is its huge capacity battery, which provides an incredible 3.6 kWh of reliable power. This implies that you can simultaneously charge numerous electronic gadgets such as smartphones, laptops, drones, and even home appliances. With such a large battery capacity, the Ecoflow Delta Pro is an exceptional choice for outdoor enthusiasts, campers, and RVers seeking a dependable power source while traveling.
– Multiple Charging Speeds
The Delta Pro is an adaptable and effective charging solution that fulfills contemporary users' varying charging requirements. It features numerous charging ports that provide a range of charging speeds, such as USB-A, USB-C, and AC outlets. These ports are strategically positioned to enable convenient access and optimal charging of all your devices.
A notable benefit of the Ecoflow Delta Pro is its fast charging capacity which enabling you to charge your devices quickly and effectively. This feature is particularly useful for individuals who are always on the go and need to charge their devices quickly.
– Fast Solar Charging
The Delta Pro's built-in MPPT (Maximum Power Point Tracking) controller is one of its most remarkable attributes, enabling efficient solar charging. With up to 600W of solar input capacity, the Delta Pro can quickly charge its internal battery, making it an ideal choice for outdoor enthusiasts and off-grid living.
The Delta Pro is designed to be adaptable, with most solar panels accessible in the market. This implies that users can use their current solar panels to charge the Delta Pro or opt for a new panel set that best fits their needs. The MPPT controller guarantees that the Delta Pro derives the highest possible power from the solar panels, ensuring that it charges quickly and effectively.
– Display
The Delta Pro has an incredibly informative LCD, which delivers real-time details about the battery level, input/output power, and other essential metrics. This display is distinct and straightforward to interpret, making it user friendly and ideal for use in various settings.
The Delta Pro display shows all the relevant information at a glance, allowing users to assess the state of their power station quickly. Moreover, the icons and symbols used in the display are simple and understandable hence easy to understand the device's status and operation.
– Mobile App
A mobile application is included with the portable power station, allowing users to manage the device remotely. The app is compatible with both iOS and Android devices and offers a variety of convenient features that simplify power station management.
The mobile app provides a significant benefit by enabling users to remotely check the Delta Pro's battery status. By doing so, users can monitor the power level and determine when to recharge the device. Additionally, the app allows users to remotely activate and deactivate the AC outlets on the Delta Pro. This functionality is especially advantageous for those who wish to conserve power when their devices are not in use.
– Safety & Security
Besides its functionality, the Delta Pro strongly emphasizes safety and security. It incorporates various safety features that guarantee its operation is safe and secure. Among these features, the device is equipped with overvoltage and overcurrent protection, ensuring that the charging process never exceeds safe limits, thereby preventing battery damage. It has short circuit protection, which helps avoid potential electrical hazards during charging. The Ecoflow Delta Pro has the AC charge speed switch that allows you to regulate the amount of energy that you will use per device.
Temperature protection is yet another aspect of Delta Pro's safety features, and it regulates the device's temperature during operation. Doing so keeps the device at a safe temperature, thus reducing the risk of overheating and damage. Along with its safety features, the Delta Pro also features an anti-theft locking mechanism that only restricts access to authorized personnel.
Package contents
The Ecoflow Delta Pro package is a complete package that includes everything you need to get started with portable power.  Here are the box's contents in more detail:
Delta Pro power station:

This is the main unit of the package and is a powerful and portable energy storage solution. 
Charging cables:

The Delta Pro power station package has three charging cables for your convenience. These cables consist of an AC charging cable that can be used with a wall socket, a car charging cord that works with a 12V car socket, and a solar charging cable that allows for charging from a solar panel.
Delta Pro to Smart Generator adapter:

This adapter allows you to connect the Delta Pro power station to the Ecoflow Smart Generator for even more power and versatility.
DC5521 to DC5525 cable

: This extension cable is designed for solar applications and enables you to link the Delta Pro power station with a solar panel to harness renewable energy more effectively.
User manual:

The Delta Pro power station package is also equipped with a user manual that offers comprehensive guidance on operating and caring for the device. In addition to the device's specifications, the manual features safety measures and solutions to potential issues that may arise, ensuring that users can enjoy the Delta Pro safely and efficiently.
Warranty card:

The power station is accompanied by a warranty card that proves its 24-month warranty. Additionally, you can register your purchase on Ecoflow's website to obtain digital confirmation of the warranty.
Power station handle cover:

The durable and weather-resistant protective cover is designed to make it convenient and comfortable to transport the Delta Pro power station, ensuring it is well-protected on the go.
Ports
One of the key features of the Delta Pro is its multiple input and output ports, which allow you to charge and power a wide range of devices and appliances. The following table will examine the various ports available on Delta Pro.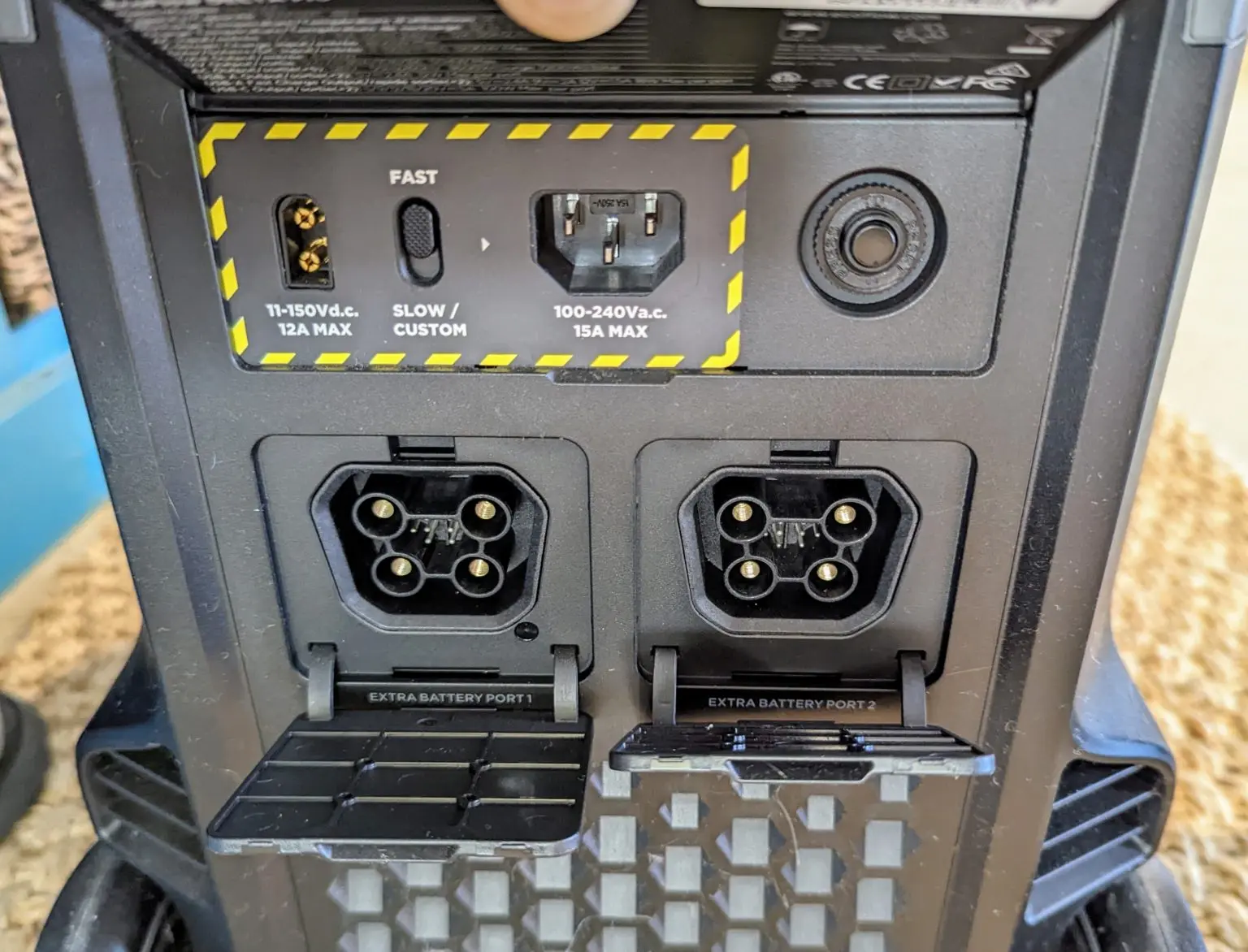 | | |
| --- | --- |
| Input ports | Output ports |
| AC charging x1 | AC outlets x6 |
| Car charging x1 | USB-A ports x4 |
| Solar charging | USB-C ports x2 |
| | DC output (12V) x2 |
| | 12V car port x1 |
| | 30A RV outlet x1 |
What Can The Ecoflow Delta Charge?
The Ecoflow Delta Pro can power various electronic devices, depending on their power consumption. Here are some examples:
Smartphone: Up to 200 charges
Electric drill: Up to 30 charges
Mini fridge: Up to 16 hours
55-inch TV: Up to 6 hours
Electric grill: Up to 4 hours
Camera battery: Up to 80 charges
Portable speakers: Up to 50 hours
Gaming laptop: Up to 10 charges
Electric scooter: Up to 4 charges
Comparison with other similar products
To compare the Ecoflow Delta Pro with comparable portable power stations, we can generate a tabular representation highlighting their key features and specifications. Below is a table that compares the Ecoflow Delta Pro with two prevalent portable power stations, namely the Jackery Explorer 1500 and the Goal Zero Yeti 1500X:
| | | | |
| --- | --- | --- | --- |
| Feature | Ecoflow Delta Pro | Jackery Explorer 1500 | Goal Zero Yeti 1500X |
| Battery Capacity | 3,600Wh | 1,534Wh | 1,516Wh |
| AC Output Power | 3,600W | 1,500W | 1,500W |
| Surge Output Power | 7,200W | 3,000W | 3,000W |
| Charging Time | 0-80% in 60 minutes | 5.5 hours | 4.5 hours |
| Capacity Inverter Type | Pure Sine Wave | Pure Sine Wave | Pure Sine Wave |
| DC Output Ports | 1 x 12V, 60W | 1 x 12V, 10A | 1 x 12V, 10A |
| USB-C Ports | 2 x 100W | 1 x 60W | 2 x 60W |
| USB-A Ports | 4 x 12W | 4 x 12W | 2 x 12W |
| Weight | 70.7 lbs (32 kg) | 38.8 lbs (17.6 kg) | 43.7 lbs (19.8 kg) |
The table demonstrates that the Ecoflow Delta Pro surpasses the Jackery Explorer 1500 and Goal Zero Yeti 1500X in terms of battery capacity and AC output power by a substantial margin. The Ecoflow Delta Pro also features a quicker charging time, which can be crucial during emergencies or when relying on renewable energy sources.
Additionally, the Ecoflow Delta Pro is equipped with more robust DC and USB-C output ports, which enable it to charge more substantial gadgets, including laptops and power tools. However, it is also heavier and more expensive than its competitors.
Generally, the Ecoflow Delta Pro is an exceptional portable power station with several unique features and capabilities. Although it may not be the most affordable choice, its cutting-edge technology and outstanding performance make it a valuable asset for anyone who requires dependable off-grid power.
Pros and Cons of the Ecoflow Delta Pro
Pros
Huge battery capacity of 3.6 kWh
Multiple charging ports and fast charging speeds
Built-in MPPT controller for efficient solar charging
Clear and informative LCD display
Mobile app for remote monitoring and control
Various safety features, including an anti-theft locking mechanism
Well-illustrated AC ports
Can be charged with solar power or solar generator
Has fans that supply an adequate airflow to keep the inverter circuits cool

Cons
Relatively heavy at 70lbs
Expensive compared to some other portable power stations in the market
Some users have reported issues with the fan noise
Key observations
The Ecoflow Delta Pro is a high-end portable power station that provides dependable power backup for various electronic devices. It has cutting-edge features and functionalities, positioning it as one of the most powerful and versatile power stations available.
With its impressive battery capacity, multiple charging ports, rapid charging rates, and dependable solar charging capabilities, this device is an outstanding option for camping, outdoor pursuits, and emergency backup power needs. It is a double-voltage hub which makes it an efficient power output.
However, this power station is comparatively weighty and costly compared to its market counterparts. Moreover, certain users have raised concerns about the noise from the fan, which may be a drawback for some individuals.
FAQ About Ecoflow Delta Pro
How long does it take to charge the Delta Pro using solar panels?
Solar panels' charging time depends on various factors, including the solar panel's wattage, weather conditions, and the sun's angle. However, on average, it takes 4-8 hours to charge the Delta Pro using a 600W solar panel fully.
Can the Delta Pro power a refrigerator?
Yes, during power outages, the Delta Pro can power a mini-fridge for up to 16 hours, depending on the fridge's power consumption.
Can I charge the Delta Pro and use it at the same time?
Yes, you can charge the Delta Pro and use it simultaneously. It supports pass-through charging, which means you can charge it while using it to power electronic devices.
Does the Ecoflow Delta Pro overheat when charging or when it is in use?
The device has been equipped with fans that supply an adequate amount of airflow to sustain the charge and cool the inverter circuits.
Can I control the amount of power that I draw from the Delta Pro?
One of the best features of the Delta Pro is the AC charge speed switch which allows you to control the amount of power you will draw from the device. The switch prevents the interruption of circuit breaker activities.