Welcome to our Top 10 article about the Best Lighting Design Blogs of 2020.
Long gone are the days when beautifully designed light solutions were reserved for hotels, spas, and high-spec offices. These days, people are incorporating a wide range of lighting options into their home to create stunning living spaces that capture specific moods and requirements. The problem with this is that it can become overwhelming because there is now so much information available and it can feel like an uphill battle to combine professional advice with your own personal tastes.
Thankfully, there are businesses out there that understand the needs of both trade and private customers and they're well-versed in offering customer service for all kinds of requirements. Nevertheless, it's a good idea to get a feel for the kind of things you can achieve with the correct lighting before you make a purchase. That's where blogs come in – they present an opportunity for businesses to teach people about the latest lighting trends, the benefits of one kind of lighting over another, how to design from the ground up, as well as reworking current spaces, and so on.
However, not all blogs are created equally, and you may become confused if you receive information from inexperienced sources. Therefore, it's important to stick to the businesses that really know what they're talking about, and that's exactly what this list of the best lighting blogs of 2020 contains.
https://www.hampshirelight.net/
Hampshire Light are an award-winning, family-owned lighting design team, and have
been enhancing clients' projects with thoughtful and practical lighting designs for over
20 years.
Hampshire Light believe that lighting should enhance every project architecturally, and
should complement the character of the property, whether it's a Grade II listed barn or
contemporary city residence. Lighting should also open and enrich the way a space is
used and lived in, and their lighting design team are passionate about understanding
how the client intends to use a space right from the beginning of the project.
The Hampshire Light blog features useful articles, written by their experienced lighting
design team, covering a range of topics from ultimate home lighting guides, tips on how
to use LED lighting, landscape and residential lighting tips, and the latest trends in
lighting design. You can even sign up to their email list to keep up to date with their
monthly roundup of lighting design news.
Lighting Design International believe that lighting shouldn't just be an afterthought, but should instead be a major part of the architectural process from the ground up. The team contains talented individuals who are graduates of a wide range of subjects, including lighting design, architecture, fine art, product design, and more. Impressively, Lighting Design International has worked with hotels, spas, offices, restaurants, and more to complete a huge variety of lighting projects, so you know you're dealing with people who know what they're talking about when it comes to lighting design.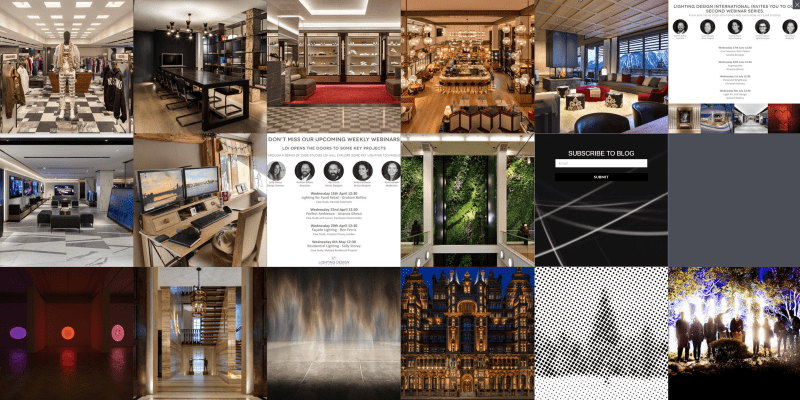 Readers of Lighting Design International's blog will find a wide range of interesting posts that cover topics such as work-from-home lighting, international light events, design festivals, and detailed lighting renovation reports, to name but a few. The posts are arranged in a way that shows off the imagery before you even get to the main content.
MS Lighting Design is spearheaded by Marcus Steffen, who studied Mechatronics at Kings College London. Since graduating, Marcus has made his name as a lighting designer and now has over ten years' experience in residential lighting. MS Lighting Design's selling point is that they like to truly see what the client wants to achieve before helping them to turn that into a reality with expertise in light design and additional technical support.
One of the greatest things about the MS Lighting Design blog is that it covers such a huge range of topics. You'll read detailed posts about the latest lighting for home offices, and get tips for garden lighting, home refurbishment projects, and how to get the most out of LED lights and recessed downlights, plus much more. It's all set out in an easy-to-read blog that's updated regularly, so you'll be the first to get the latest lighting design news.
Anthology Lighting was established in 2015 by Jeff Ber, but the most impressive thing about this company is that it is family owned and spans three generations, meaning that Jeff is the latest in a long line of lighting specialists. Anthology Lighting prides itself not only on the competitive prices of its products but also the customer service available prior, during, and after a sale has been made by phone and email.
The Anthology Lighting blog is the perfect place for newcomers looking for lighting inspiration. Posts cover a huge range of topics, including essential lighting basics, latest lighting design news, sizing guides, home planning, and how to update your current lighting designs. There are even posts that cover yearly trends so your home or business will never go out of style and be the first to receive news about new products.
Niche was established in 2003 when Jeremy Pyles first teamed up with a glassblower to create pendants to light the front of the Niche store. Although not initially for sale, the pendants caused quite a stir and quickly became Niche's highest-selling item, which ultimately led to a more comprehensive line of lighting products, and a clear sign that this business has what it takes to succeed. Niche's impressive selling point is that each product is handmade by glass artisans which provides an authentic feel to every light purchase.
Niche's blog covers a variety of topics, including product showcases, light hanging guides, saving opportunities, and even employee spotlights that provide a personal touch. There's even an email sign up option which will allow you to become one of the first people to receive the latest news on lighting design and new blog posts.
Nulty believes that lighting is all about creating the right atmosphere and is definitely not about the fixtures and fittings. The business presents itself as a vibrant place to work that's well-stocked with creative employees within its London, Dubai, Beirut, Miami, and Bangkok offices. One of the most attractive points of Nulty as a business is the fact that it focuses on more sustainable and environmentally friendly approaches to lighting, which is a great sign that you'll receive products that the business has put a lot of thought into.
The Nulty blog contains a large number of informative posts that teach the reader about things such as colour temperature, the role of independent lighting designers, guides to home office lighting, facts about daylight saving, and even fun pieces on lockdown lighting. The website also offers direct email contact to the team, as well as an email sign up for a newsletter that will allow you to be the first to receive important updates.
Lighting Design Studio believe that lighting design is fundamental to the success of any space. In fact, they've devised a mission statement to never knowingly over-light, use only the finest lighting ingredients, commit to the responsible supply of materials, recycle all light fittings, remain carbon balanced, and to contribute 1% of yearly turnover to environmental charities. When you're dealing with Lighting Design Studio, therefore, you can be sure that you're being assisted by people who care about the world around them, and this is a good sign as to how they will also treat their customers.
The Lighting Design Studio blog contains a large variety of informative and instructional posts, including restaurant designs, basement designs, how-to garden lighting guides, art gallery lighting, colour temperature guides, lighting design news, and retrofit LEDs. For lighting news and inspiration, there's an option to sign up for Lighting Design Studio's newsletter by handing over a couple of simple details like your name and email address.
The Lightbulb Company has the benefit of having been in the lighting industry for over 40 years, meaning that you're dealing with people who really know what they're talking about. The business has set a goal of providing quality branded lighting products at an affordable price. As a bonus, The Lighting Company offer a no-quibble money-back guarantee and are always available to assist via phone and email.
The Lightbulb Company blog hosts a huge variety of informative posts that help the reader to both understand the ins and outs of different kinds of lighting but also receive information on how to implement it within their own homes, offices, and so on. For example, the blog contains posts that teach about light bulb sizes, colour temperature, smart lighting, first-look articles about new products, and alternative holiday lighting.
The Lighting Company was established in 1988 and has a 30-year history of supplying lighting solutions to both trade and private customers. The business provides products that are suitable for every room in the home, and pride themselves on offering excellent customer service by phone and email. Not only that, but The Lighting Company take an ethical stance to business and opt to reuse cardboard, source products from reputable manufacturers, and do not tolerate any form of cruelty in the production line.
The Lighting Company's blog features useful articles that help you to find your own lighting style, as well as ideas for lighting different rooms, and how to make improvements to your current setup without the need for extra cabling and redecoration.
Pooky consists of a tight-knit team who are passionate about lighting that looks impressive without breaking the bank. One of the most interesting things about this business is that there is a drive to avoid current fads, and instead help to create lighting solutions that stand the test of time. Pooky also cares about their responsibility to act ethically, fairly, and with as little impact on the environment as possible, which is always a good sign.
The Pooky blog aims to inspire readers and achieves this by providing posts to read that give advice about bedside lamps, using colour effectively, lighting classic spaces, styling a garden, creating an ideal home office environment, and much more. There's an option to get in touch directly via email or you can use the contact us form by providing your name and email address.
Burgess Lighting was established in 1963 and has been a source of high-quality lighting products ever since. The business offers a free 1-hour lighting design consultation and works with customers from start to finish, covering lighting inspiration all the way through to installation. Burgess Lighting also has a showroom located close to Alexandria, VA and Washington, DC that covers all kinds of lighting solutions for homes.
The Burgess Lighting blog covers informative posts such as how to size a chandelier, as well as guides on freshening up current light setups, adding LED-infused lights and fixtures, changing the mood of your home, and even tips to create the ideal bathroom light solution.
Ultimately, the best lighting articles are written by businesses that have a long history of working within the industry. Ideally, you should look for pieces that are written by people who appreciate new trends but still see the value in timeless lighting design. This is the sign of a well-balanced lighting design specialist.
The websites mentioned above contain a balance of information ranging from lighting news, first-look new trends, first-time guides, inspirational design ideas, and background information to help you make the right choices for your needs.
Before you get started, it is worth contacting some of these reputable businesses directly who will be more than happy to help you to design your perfect room and will provide advice about suitable lights and installation information. You can also sign up for a range of news updates from most of these design companies by providing your name and email address to receive the latest lighting guides.