Using T4 Under Cabinet Lighting is one of the most convenient ways to add a decorative effect to your kitchen without a price that breaks the bank. The idea is that the light fitting is mounted out of sight and that it provides an indirect lighting effect.
This means that while you cannot see it once it's turned on, you can still see the light coming from it, as it bounces off the walls, floor, ceiling or counter top in your kitchen, depending on where they have been installed. The reason that this method of installing T4 Under Cabinet Lighting  is so appealing to interior designers  and DIY enthusiasts, is that it provides a high level of visual comfort. You can install T4 Under Cabinet Lighting to make your kitchen dazzling!. 
This is because the light sources are obscured from view, and there is no discomforting glare to worry about. This can relieve occupants of the kitchen from a large amount of stress on their eyes, and creates a really nice ambiance in a place to cook, eat and drink.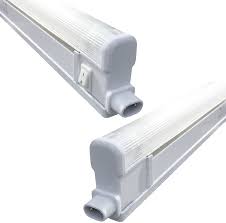 There are three main options to choose from for kitchen under cabinet lighting. Besides T4 fluorescent under counter strip, you could also choose from LED strip and surface mounted LED under cabinet lights. The other two options both have disadvantages when compare to T4 fluorescent under counter strip.
The price of LED strip could be a little bit less, however this is because it does not have the same amount of protection as a T4 fluorescent under counter strip. This means this product is more susceptible to damage from impacts or moisture in the air. LED Under Cabinet Strip Lighting is made up of many individual LEDs, and these can fail.
There is also a separate power supply to install, as LED strip is runs off low voltage. These can easily be mismatched to the LED strip causing problems including individual LEDs furthest away from the power supply being dimmer, or going out entirely.
Types of Under Cabinet Lighting:
Surface-mounted LED under cabinet lighting comes in a variety of forms, they are usually individual light fittings in round or square shapes and can be anything from 50mm to 300mm in diameter.
You can read about other types of LED Under Cabinet Lighting Here.
These are usually spaced out under the cabinet, meaning that it is difficult to achieve a continuous line of light with them, and if you try to place them together, you can end up with an installation that is too bright, or with bright and dark spots.
T4 under cabinet lighting products have a few features which make them more convenient than the previously mentioned options. The main one is that they don't require a separate power supply, and can be run off the main 230V power circuit.
Besides making installation easier, it means that there is one less component to fail. They can be easily installed using under cabinet lighting mounting clips, which can be screwed to the mounting position, and the light fitting is then attached. If you require more than one, you can easily link them using plug-in power cords, which can be tidied up using under cupboard lighting clips.
The clips for under cupboard lights are usually packaged with the fittings themselves.
Each link cable is supplied with the fitting as well, and you usually receive one link per product purchased. Besides being easy to link together, T4 under cabinet lighting is easy to use and maintain compared to LED products. Fluorescent lamps will last for many years, but when it is time to replace them, they can be easily removed and a replacement lamp can be installed while the light is still fixed to the cabinet.
This is not true for LED products, which usually require the entire fitting to be replaced.
There are a number of manufacturers who produce T4 fluorescent lighting. These include Ansell, Knightsbridge and Aurora. Ansell offers four versions, based on wattage, (16W, 20W, 25W and 30W). Prices for these begin at £14.65 inc. VAT. for 16W, price not including delivery.
They are available in cool white (4000K). Knightsbridge offers the same wattage's as Ansell plus smaller 6W & 10W stock, which may be more practical of the lighting is only to be used to create an effect. For comparison, a 16W fitting from Knightsbridge will cost £16.00, price not including delivery.
These are available in cool white (4700K). Aurora offer 6W, 10W, 16W 20W and 30W versions, and their 16W fitting is available for about £16.50, price not including delivery. Please consider the differences in what each company offers carefully before choosing which to buy.
Questions people frequently ask T4 lighting.
What is a T4 Light bulb?
The "T" in T4 stands for "Tubular", and the "4" refers to the diameter of the tube and cap which takes the tube. The cap sizes are denominated in eighths of an inch, so T4 is 4/8″. They have mainly been fluorescent light sources, however there are also halogen and LED versions available, and their length is usually denominated in feet.
What is the difference between T4 and T5 lights?
The obvious difference between T4 and T5 lights is their diameter, with T4 being 4/8″, and T5 5/8″. Because of their different diameters, they require different control gear, and the larger T5 fittings may also be slightly more expensive.
How do I know what size fluorescent bulb I need?
If you are replacing a fluorescent bulb, you can look at the end of the old one, and it will have a code which will tell you whether it is T4, T5, etc. You must also measure the length of the tube, using imperial measurements, to get the length in feet.
What is T4 Fluorescent Tube?
A T4 fluorescent is an energy-efficient light source which is compact and easy to install. It creates light when electricity excites the gas inside, producing short-wave ultraviolet light which illuminates the fluorescent phosphor coating on the tube.
In conclusion, T4 fluorescent lighting is great to use on a small budget home improvement project, they are every bit as efficient as LED lighting, and while the tubes may not last as long, they are easily replaced and cheaper to buy.